New Year 2022 Update
We are open for business and looking forward to meeting returning friends and new guests alike. We have been working hard around the fishpond and hired this amazing machine to cut back the reeds which were encroaching further into the water. We wanted to get the work done before the nesting season and already this morning a pair of geese have arrived and are on the island. The otter as some of you already know has a mate and though they are secretive we do see them both from time to time.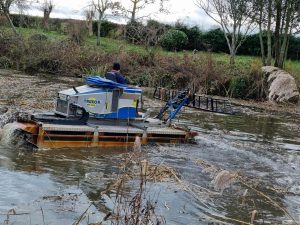 Have a great 2022 and we hope to see you at some time during the year.